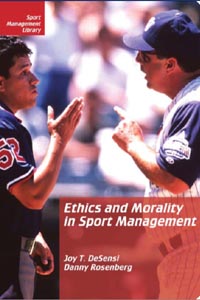 Click here for Professor Packets of this book.
"Ethics and Morality in Sport Management represents a landmark effort to bring into focus the moral and ethical issues associated with the management of sport and sport organizations. Within a sport context Joy DeSensi and Danny Rosenberg have critically examined a view shared by virtually all business managers and scholars—that ethics and morality in management is not only good for all concerned but a necessity in terms of the bottom line.?Packianathan ChelladuraiOhio State University
Author/Editor:Joy T. DeSensi Danny Rosenberg
ISBN: 188569346X
Copyright: 2003
List Price: $49.00
Binding: Hard
Pages: 299 pp.

Chapters include

Social Responsibility in Intercollegiate Athletic Programs
National Athletic Trainer's Code of Professional Practice
Considerations for a Moral Future in Sport Management
Definitions and Clarity in Language Usage
The Concept of Rights
Moral Reasoning
Ethical Decision Making in Marketing
Ethical and Moral Concerns in Sport Management
Ethical Considerations and Functions of Sport Managers
At-Will Hiring and Affirmative Action
The American With Disabilities Act
Pluralism and Selecting a Theory
Human Resource Management
Rules in Sport Competition
Decision-Making Styles
The Spectator/Fan
International Sport
Theories of Justice
Utilitarianism
The Media
Tort Law
Governance
Misconduct