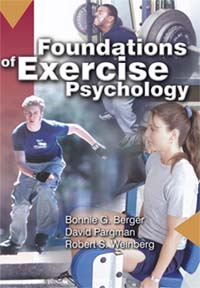 Click here for Professor Packets of this book.
"My students colleagues and I have been hoping for the publication of a book like this one for a few years now and I must say we are delighted. This book fills a longstanding void in our academic and practical libraries and we now have a solid exercise psychology text. It will be required reading for my advanced undergraduate and graduate students for many years to come." --Mark Andersen from the Foreword


Foundations of Exercise Psychology presents a summary of the information to date on the psychology of exercise and offers lucid suggestions for practice and future research. The contents of the book go well beyond past texts in the field and include some innovative and thought provoking chapters on little discussed topics in exercise psychology such as the meaning of exercise and the psychological and physical dangers when exercise goes awry. The range of populations examined includes women children dependent and habitual exercisers and participants throughout the life span.

Foundations of Exercise Psychology will help shape the direction of the field of exercise psychology for many years to come and it will do much to encourage young professionals to enter the field and to pursue further study. The text spends considerable time exploring the relationship between exercise and personality self-esteem self-concept mood alteration and motivation—concepts and features of being human that are all intimately related. Students moving toward the exercise professions will gain a solid background in key issues surrounding exercise and health and make great strides forward in becoming competent and compassionate practitioners.
Author/Editor:Bonnie Berger David Pargman Robert Weinberg
ISBN: 1885693346
Copyright: 2002
List Price: $54.00
Binding: Cloth
Pages: 400

Contents

Exercise Psychology: What Is It?
The Emerging Field of Exercise Psychology
Exercise and the Quality of Life
Exercise and Enhanced Self-Concept and Self-Esteem
Mood and Exercise: Basic Mood Considerations
Mood Alteration Self-Awareness and Exercise: Multiple Relationships
Exercise as a Stress Management Technique: Psychological and Physiological Effects
Exercise-Related Injury: Understanding and Coping
Theoretical Models of Exercise Participation
Motivational Determinants of Exercise Behavior
Motivational Strategies to Enhance Exercise Adherence
Personal Meaning in Exercise
Gender Issues in Exercise
Children and Youth in Exercise
Exercise for Older Individuals
Exercise: What Type Is Best for Optimal Psychological Benefits?
Exercise: Practice Guidelines for Optimal Psychological Benefits