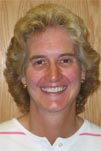 Robin S. Vealey is a Professor in the Department of Physical Education, Health, and Sport Studies at Miami University in Ohio. She completed a B.A. at Marshall University and a M.S. at Indiana University with a specialization in Coaching Science. After completing the Master's degree, Dr. Vealey taught and coached at Linfield College in Oregon where her basketball and volleyball teams received national recognition and she was a finalist for the small college Basketball Coach of the Year. Her experiences as an intercollegiate athlete and coach led her to complete a Ph.D. in sport psychology in 1984 at the University of Illinois.

Dr. Vealey teaches courses in sport psychology and coaching effectiveness at Miami, where she has received numerous teaching awards. She co-authored the book Competitive Anxiety in Sport, and has published multiple articles and book chapters related to sport psychology and coaching effectiveness. She has also made over 200 scholarly and applied presentations to regional, national, and international audiences. She has been honored as a research fellow by three national organizations and received the Distinguished Scholar Award from the Australian Psychological Society.

Dr. Vealey is a former President of the Association for the Advancement of Applied Sport Psychology (AAASP), and former Editor of The Sport Psychologist. She is a Certified Consultant of AAASP and is listed in the United States Olympic Committee Sport Psychology Registry. Dr. Vealey has worked as a sport psychology consultant for the U.S. Nordic Ski Team, U.S. Field Hockey, elite golfers, and is involved in mental training with athletes and teams at Miami University and the surrounding community. She has extensive experience in coaching education, serving as a National Instructor for the coaching certification course within the American Sport Education Program. A former collegiate basketball player, she now enjoys the mental challenge of golf.