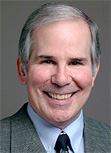 Dennis R. Howard is a professor of sports marketing in the University of Oregonís Lundquist College of Business, where he teaches sports business courses at the James H. Warsaw Sports Marketing Center. Dennis formerly served as the Director of the Graduate Program in Sport Management at The Ohio State University.

Dr. Howard is a past recipient of the Earle F. Ziegler Award, the highest honor awarded by the North American Society for Sport Management. He has authored or co-authored three books and numerous articles on sport and leisure industry topics. In 2001, Professor Howard was named a Research Fellow by the North American Society for Sport Management for his contributions to the field. He has served as a consultant to the NFL, several major league teams, and a number of intercollegiate athletic departments on a range of facility financing and development projects.

Dr. Howard is a graduate of the University of Oregon (BS), the University of Illinois (MS), and Oregon State University (PhD). He served on the faculty at Texas A&M;, Pennsylvania State University, and The Ohio State University, before returning in 1997 to his alma mater in Eugene. As a member of the Lundquist College of Business faculty, Dr. Howard has received the Undergraduate Teaching Award and the Harry R. Jacobs Distinguished Teaching Award.