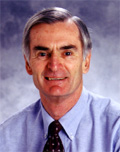 John L. Crompton holds the rank of Distinguished Professor of Recreation, Park and Tourism Sciences at Texas A&M; University. He received his undergraduate degree at Loughborough College in England and completed his M.S. degree at the University of Illinois. He was awarded another M.S. degree from Loughborough University of Technology in business administration and later received his PhD from Texas A&M; University.

Before embarking on his academic career, Dr. Crompton served as the Managing Director of Loughborough Recreation Planning Consultants, the largest consulting firm in the United Kingdom specializing in the design and operation of sport and recreation facilities.

Professor Crompton is the co-author of eleven books and a number of articles that have been published in the recreation, tourism, sport, and marketing fields. He is the past recipient of the National Park Foundationís Cornelius Amory Pugsley Award for Outstanding Contributions to Parks and Conservation, the National Recreation and Park Associationís (NRPA) National Literary Award, the NRPAís Roosevelt Award for Outstanding Research, and the Travel and Tourism Research Associationís Travel Research Award.

He has received the Vice-Chancellorís Award for Excellence in Graduate Teaching at Texas A&M;, the Texas Agricultural Experiment Stationís Faculty Fellow Award for Exceptional Research Contributions, and the Texas A&M; University Distinguished Achievement Award for Research.