FIT'S FAMILY OF AUTHORS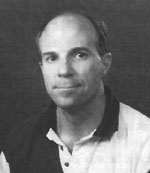 Rob Ammon Jr., Ed.D.
Rob Ammon Jr., Ed.D., received his undergraduate degree in physical education from the University of Colorado in 1980. After teaching high school for two years he pursued his master's degree in exercise science at Louisiana State University. Dr. Ammon completed his doctorate at the University of Northern Colorado (1993) and was an assistant professor in the Sport Management Division for one year at Bowling Green State University. Presently employed at Slippery Rock University, he teaches graduate and undergraduate courses in sport facility and event management, sport law, sport promotion and fund raising, and management of sport. Dr. Ammon's areas of research include risk management at sports events and facilities, spectator violence, alcohol and sport, crowd management, and legal liabilities involved in sport. In addition, he has been associated with events as a practitioner since 1976, as a consultant and supervisor for a national crowd management company. He has worked various Super Bowels, collegiate athletic events, and hundreds of concerts across the United States. His interests include weight training, running, skiing, and golf.
---
Sport Facility Planning and Management
---